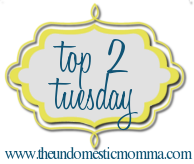 I LOVE Spring time. Seriously.
It's probably my favorite season.
Clothes are so verstile and always cute.
I've been browsing so many sites &cannot wait to go shopping!
I intentionally don't buy many winter clothes just so I can
splurge on spring/summer clothes :) Anyone with me?!
Today, Taylor wants to know our top 2 favorite outfits/pieces for spring.
I won't go crazy with this post, however I am loving:
So simple, yet classy and chic!
I also love tanks, shorts, skirts, all of the accessories...
What clothes do you love about spring??